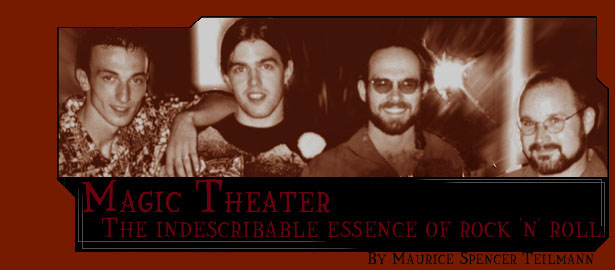 "When you find a fat groove you just want to ride it…"
Magic Theater found that elusive groove and have been riding it all over Chico, dousing audiences with their energetic, light-hearted, rock sound. Comprised of Joe Chamberlin (guitar/vox), Jason Tate (bass), Damir Popovac (drums), and Dave Deveaux (keys), the group has got the fist of rock pumping and crowds spinning the hippie dance, but don't make the mistake of calling them a jam band.
"I think we're more like the Black Crowes or Ben Harper or the Rolling Stones. Raw music. Being labeled a jam band can be the kiss of death 'cause people think you're gonna play (a song) for ten minutes, you're not gonna have very many words and you're just gonna be bobbin', mellow groove for three hours," explains the lanky guitarist as we sat outside their practice house one balmy May night. "That's not what we do, but because we improvise sometimes and create music while we're on the stage, people would like to stick us with that label."
The quartet has been struggling with that particular denomination, and shies away from considering themselves a jam band. For some, myself included, it's hard to define that line where good plain rock music becomes jam music. The style incorporates bouncy, carefree rhythms, overly repetitive riffs, unassuming lyrics, and an endless procession of noodling solos. Magic Theater draws the jam line outside their doorstep, citing that their songs average about five minutes, and although Chamberlin pulls out the classic rock, vibrato-laden solos, that's not the crux of their sound.
"I wonder what kind of patience people have for extended musical jams, wanking on guitars," observes Jason as he rolls a cigarette. "It's been exploited to such an extent, especially with rock 'n' roll. I get tired of people wanking on instruments. We try to come from a perspective of a lot of passion and from the grounding force of just energy, and we try to work with emotion more than the space of jamming. I think that's why we resist the 'jam band' label." That's not to say that they avoid exploring new ground on the spot.
"Our songs are rarely the same twice," expands Tate. "They usually end pretty well and begin about the same but there's always improvisations and jams. Sometimes we find whole new grooves and whole new ways to play songs we've been playing for a year."
"Every once in a while it gets kinda loose but for the most part we've gotten so used to playing with each other that we can just change the rhythm or change the feel of it a little bit and still keep the changes tight because we just listen to each other," finishes Joe.
Rock band, jam band, San Francisco hippie sound, rock 'n' roll, whatever. The term that describes Magic Theater is irrelevant. It all comes down to guitar-based melodies, back-beats and punchy keyboards, the all-encompassing vibe of the music and how they come together to form the whole.
"There's a lot of sadness in my soul for the state of this world and the people in it, and a lot of time that's the thing that I draw from to get the words out and sing with conviction," says Joe, who takes the burden as the primary vocalist / lyricist with a glimpse of seriousness, but never loses sight of optimism. "There's always gonna be a glimmer of hope." His sing-songy lyrics express an air of unity and salvation through understanding, tackling issues that are of great concern to him.
"Take a look around, there's so much going on that people are too busy to see with the government, other people, the environment, like the clear-cutting, they slash and burn right up the road from here… I get very upset with the government and the media in general."
This dissatisfaction with the status quo has fueled the fire and prompted the band to spread its message. Magic Theater recently released a self-produced, self-titled CD, available at their shows and fine music stores in the area. Without the financial backing of a record label, there is a great deal of difficulty when it comes to the production, promotion and distribution of an album. Luckily, Jason denotes how he can see the bright side of the situation.
"When you can produce your own CDs you can easily produce a batch of fifty to a hundred within a couple weeks, and when those are gone you can make more. There's no in, you don't have to have the capital to buy a gaggle of CDs. Ultimately, I think there's going to be more of an area of music that artists can put out themselves. On the plus side, there's a wealth of five-dollar CDs hitting the market from independent artists."
The seemingly difficult task of fitting all the components together is facilitated by the great sense of camaraderie between the members. During the interview, each expressed their admiration for each other's strengths.
"A lot of it I credit to this man Damir, 'cause he's a monster. He guides us through a lot of the changes," relates his rhythm section counterpart.
The praise seemingly embarrasses the modest drummer. "There's lots of room for improvement on my side," quietly qualifies Damir with his distinguished Bosnian accent.
With humility, respect and the drive to let their songs be heard, Magic Theater has come a long way. There's still much distance left to cover, but with the amount of heart and soul that they harness in their music, discovering their role in the reincarnation of the rock 'n' roll will be forthcoming.
by Maurice Spencer Teilmann
The Synthesis volume 7 issue 38 June 4 2001
back to press articles
back to Magic Theater